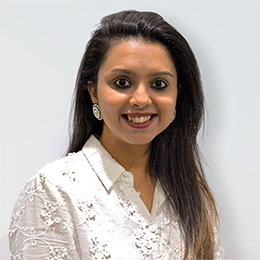 Rates:

$50.00 / Hour
Neha currently has a full case load and is unable to take any new clients for now.
The life we live today is busier than ever. We are constantly trying to manage the work life balance to provide for our families practically and emotionally while doing the best job we can for our companies or employers. Everybody wants a piece of us but there never seems to be enough of us to go around and we can often feel like we are letting people down. On top of that, somewhere in there we are told to make time for ourselves. It's exhausting!
With experience of working with individuals with matters of work-related stress and helping them create a clear distinction between work time, self-time and family time, I am passionate about helping people manage stress, switch off the work life and create a happy, appreciative, comforting relationships with yourself, your partner, your friends and within families.
The areas I could help in would be
Managing work related stress
Techniques to have healthy and happy relationships at work and home
Managing anxiety and depression
Better ways of communication
Strengthen your bond with your partner and your family
Provide a secure space to express yourself
I can provide counselling sessions in English, Hindi and Arabic
My journey best defines who I am. I love to explore and grab life's adventures with both hands.
I was raised in Dubai from Indian heritage. Meeting and marrying the love of my life led me to my new home, New Zealand. So, I consider myself a global citizen. Diversity excites me and provides rainbow of interesting ideas and experiences that adds colour to lives.
My curiosity about human behaviour, how to help people be happier and live more fulfilling lives, and the importance of people management and a healthy culture within an organisation attracted me towards blending my studies in Human Resources and Counselling.
I learned a lot during my time in the corporate world and through my own personal exploration of what makes me happy I realised that I needed a career change. My passion is working with individuals and couples, empowering them to take control of their lives, explore the things that are holding them back from being happy and creating solutions to achieve their life and relationship goals. That has led me to work towards my Masters in Counselling Psychology.
In my spare time, I write motivational blogs to uplift and connect with myself and others. I love spending time with my friends and being around people who inspire me to keep discovering what I can achieve personally and professionally.